SERVICES
Cultural information, science, photography and travel, tutorials, shopping and advertising
is a Web Site for fans of HUMANITIES, SCIENCE, CULTURE, PHOTOGRAPHY and TRAVEL, with its own content and other in collaboration "3WPC".
is a World Wide Web Collaborative Platform, where different associated domains, with common interests, values and goals, work to provide an high-quality and sharing content.
Artistic photography, video, tutorials, posts and blogs. Photos and guides of my trips and other collaborators. Periodically, new interesting themes, videos, photos or articles.
Thousands of own and "3WPC" photos and videos, under quality standards, images in common repository, author's indication, link to his web, guides, routes, tips and descriptions.
To take advantage of your camera and travels. Or develop topics of cultural interest, in community. We invite you to participate, under common format and platform, in collaboration.
Apply incredible effects to your photos. An extensive exhibition of artistic photography with a large base of over 50,000 images, which will increase and comment individually.
Own or 3WPC photos. And tour guides, to move around the world. Practical tools for cheap quality trips, tips, recommended itineraries, reviews and monuments for visiting.
An excursion to the world of Culture, History, Art, Painting, Sculpture, Music, Philosophy, Enigmas, Apologetics, Astrophysics, Metaphysics, Curiosities and Current Topics.
Photography, Video, Graphic and Web Design Tutorials, Coathing, simple and fun courses to learn how to make your own web easily and without previous knowledge, HTLM, PHP, JSP Programming, SEO.
Se trata de un templo egipcio del siglo II a. d. C. instalado en el Parque del Cuartel de la Montaña, cerca de la Plaza de España. El templo fue donado a España por el gobierno egipcio para evitar que quedara inundado tras la construcción de la gran presa de Asuán. La construcción del templo la inició a comienzos del siglo II a. C. el rey de Meroe Adijalamani, quien dedicó una capilla a los dioses Amón e Isis. La capilla está decorada con relieves. Posteriores reyes de la dinastía ptolemaica construyeron nuevas estancias alrededor del núcleo original. Tras la anexión de Egipto al Imperio Romano, los emperadores Augusto, Tiberio y, tal vez, Adriano, culminaron la construcción y decoración del edificio.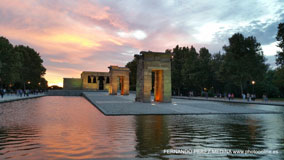 Templo de Debod, Madrid, España
(Photo - Date: 17-09-2016 / Time: 20:24:50)
En el siglo VI, tras la conversión de Nubia al cristianismo, el templo fue cerrado y abandonado. Ya en el siglo XX debido a la construcción de la presa , el gobierno egipcio lo regaló a la ciudad de Madrid y fue transportado, reconstruido piedra a piedra y abierto al público en su actual ubicación en 1972. La reconstrucción que se hizo en Madrid mantuvo la orientación de su lugar de origen, es decir, de este a oeste.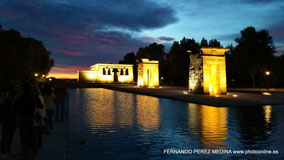 Templo de Debod, Madrid, España
(Photo - Date: 17-09-2016 / Time: 20:47:30)
Para comprender el significado de la ubicación del edificio, sus motivos decorativos y conocer su historia, se exponen maquetas, vídeos y proyecciones audiovisuales sobre las paredes.