ABOUT-ME
All about us and our 3WPC collaborative platform
is a Web Site for fans of HUMANITIES, SCIENCE, CULTURE, PHOTOGRAPHY and TRAVEL, with its own content and other in collaboration "3WPC".
is a World Wide Web Collaborative Platform, where different associated domains, with common interests, values and goals, work to provide an high-quality and sharing content.
Artistic photography, video, tutorials, posts and blogs. Photos and guides of my trips and other collaborators. Periodically, new interesting themes, videos, photos or articles.
Thousands of own and "3WPC" photos and videos, under quality standards, images in common repository, author's indication, link to his web, guides, routes, tips and descriptions.
To take advantage of your camera and travels. Or develop topics of cultural interest, in community. We invite you to participate, under common format and platform, in collaboration.
Apply incredible effects to your photos. An extensive exhibition of artistic photography with a large base of over 50,000 images, which will increase and comment individually.
Own or 3WPC photos. And tour guides, to move around the world. Practical tools for cheap quality trips, tips, recommended itineraries, reviews and monuments for visiting.
An excursion to the world of Culture, History, Art, Painting, Sculpture, Music, Philosophy, Enigmas, Apologetics, Astrophysics, Metaphysics, Curiosities and Current Topics.
Photography, Video, Graphic and Web Design Tutorials, Coathing, simple and fun courses to learn how to make your own web easily and without previous knowledge, HTLM, PHP, JSP Programming, SEO.
Pisa es una ciudad de la región italiana de la Toscana y la capital de la provincia homónima. Entre los monumentos más importantes de la ciudad figura —en la célebre Piazza dei Miracoli, declarada Patrimonio de la Humanidad— la catedral, construida en mármol entre los años 1064 y 1118, en estilo románico pisano, con su portal en bronce de Bonanno Pisano y el púlpito de Giovanni Pisano. Al lado de la catedral se encuentra la llamativa torre inclinada, del siglo XII, con una altura de 58,36 metros, que sufrió su característica inclinación inmediatamente después de iniciarse su construcción.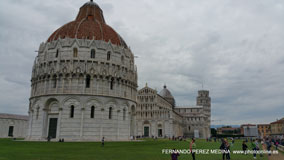 Piazza dei Miracoli, Piazza del Duomo, Pisa, Italia
(Photo - Date: 12-10-2015 / Time: 13:25:51)
Debido a la naturaleza del terreno, existen en Pisa otras dos torres inclinadas: el campanario de la iglesia de San Nicola, en el extremo opuesto de Vía Santa Maria, junto al Lungarno; y el campanario de la iglesia de San Michele degli Scalzi, en la mitad del paseo fluvial delle Piagge, sito en la parte este de la ciudad (en este caso incluso la iglesia está inclinada). También está inclinado el Palacio Toscanini en Lungarno Pacinotti. La razón de que tal cantidad de edificios, sobre todo los altos y esbeltos como los campanarios, se encuentren inclinados, es la naturaleza pantanosa del terreno sobre el que está situada la ciudad, que en muchos casos cede y se asienta con el peso de estas edificaciones.